The
Movember Foundation
is the leading global organization committed to changing the face of men's health. The Movember community has raised $574 million to date and funded over 800 programs in 21 countries. This work is saving and improving the lives of men affected by prostate cancer, testicular cancer and mental health issues. The
Movember Foundation
challenges men to grow moustaches during Movember (formerly known as November), to spark conversation and raise vital funds for its men's health programs. To date, 4 million moustaches have been grown worldwide.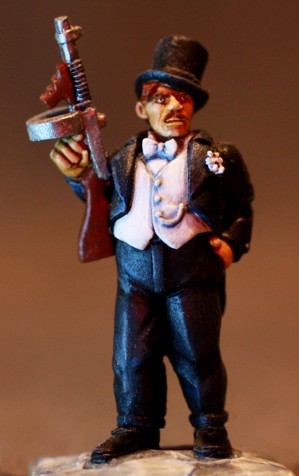 Gamers, being a worldwide community which has shining examples of social responsibility at times, have some stellar representatives within the Movember community.
First up on the docket is a great little cottage company named Pulp Figures. They've been making models of note for over a decade now, and this is not their first foray into charity- or even Movember- figures. The two fisted manly sculptor, Bob Murch, is a man who puts his talents to work for good measure. His submission for Movember this year is a bloke named Stash Gable. A great model here, and one that honestly has me interested in maybe picking up a prohibition era game just to use him more. A man like this is a man of action and character, with undoubtedly many untold epxloits- for a true Gentleman never tells. A five dollar donation (plus three dollars shipping if you order nothing else from Pulp Figures- and really, you should) brings this classic tuxedo wearing Tommy toting gentleman to your collection.
Second up is a new up-and-comer. Resplendantly stashed himself, Alex Huntley of
Warploque Miniature
s has tossed his shaving kit into the ring with a model for his new Arcworlde line, the
Albionnican Captain
. If you were looking for a proper gentleman to lead your Fantasy or Exploration Age 28mm chaps on a thrilling adventure of derring-do, look no further. Eight pounds is all it takes to secure this epic fellow- and his tea- for your gaming table.
If anyone knows of any other Movember Models going up this year, please give a link in the comments below. A little bit of charity does indeed go a long way.
To Messrs. Murch and Huntley, I tip my hat to you, gentleman. Keep up the good work.
The Second Class Elitist